who was eve hesse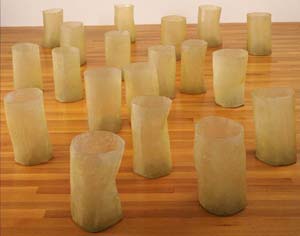 When an artist dies young, one wants always to remember her that way, as if she never could grow old. Everything she did comes weighted down with mortality and promise. However, she also remains oddly accessible. I feel I could still go up to her at an opening without apologizing too much. I could congratulate her, thank her for the inspiration, and ask how she ever pulled it off. What exactly goes into those thick, creepy constructions, other than fear and pleasure?
Elisabeth Sussman curated her 2002 retrospective along with Fred Wasserman. She does not attempt to recreate it now, and her modesty brings the art that much more to life. It makes sense that she collaborates with Catherine de Zegher, the Drawing Center's last director. The Center forced de Zegher out after controversy over its place at Ground Zero, when she dared to assert a museum's independence. Hesse again thrives on the margins.
Using materials then new to sculpture, like latex and fiberglass, she made work that hung, draped, dangled, looped, drooped, slumped, webbed, protruded breast- and penislike, imitated skin, suggested bodily orifices, spilled or just lay on the floor.
From the early 60's there are lively color drawings whose fanciful components — childlike squiggles, doodles and bizarre shapes dancing over spacey fields — show a wide but still unfocused vocabulary. Ms. Hesse quickly came to regard her excursions in color, however, as dumb and uninteresting. She recognized that her style and inclinations were toward achromatism.

Yet paradoxically, and remarkably, her work evinces no anguish or suffering, and no need to expose or extinguish demons from the past.
Hesse in a floppy hat. Photo by Herman Landshoff

"Eva Hesse," which opens in New York this week, is at once a gripping biography of a psychologically complex artist on the verge of stardom, and a tutorial on art-making in New York in the 1960s.
She forged ahead, helping to usher in post-minimalism with her eccentric, absurd and repetitive creations that broke away from the rigid straight lines and sharp edges of minimalism. She dipped, shaped and molded materials to create works that were highly personal and "on the borderline of uncontrollability," as one critic put it.

I worked for the sculptor and painter Nancy Graves for a number of years. She told me Hesse came back the day after a party Nancy had thrown to get an umbrella she had "forgotten." Hesse wanted to further her acquaintance with Graves. Nancy said this was how ambitious artists did things—make sure you meet the people you want to meet, and get to know them, by whatever means necessary. Nancy gave Hesse plaster gauze to try out. She had tremendous respect and a some envy of Hesse—that envy was new to me too. I realized that no matter what artists had accomplished, no matter where and how they had exhibited their work, this was a competitive field. Everyone was straining for more, working on getting more of what they felt they deserved.
There is the myth frequently cited in popular reading that Hesse had to pay for her work with her life. Her materials killed her. Although quite toxic, polyester resin doesn't automatically give people tumors. Plenty of boat builders will testify that their livers paid a price over a long period of time until they started wearing respirators, or using fresh air systems. Robert Mallory, a sculptor, wrote an article about his body's complete rejection of polyester resin. Beyond the technical facts, many people find something tragically appealing or darkly appropriate about the notion that Hesse died for her work, a victim of her passion. I have never understood this- what is tragic is not having the result of the entire arc of her production. I would have loved to see what she would have done, who wouldn't? But the idea of paying the price of greatness as an artist with your life is a niggling way to value her achievement and her ambition.
References:
http://www.nytimes.com/2006/05/12/arts/design/12hess.html
http://jewishjournal.org/2018/08/30/driven-to-be-an-artist-eva-hesse-transcended-trauma/
http://www.timesofisrael.com/documentary-explores-short-life-long-legacy-of-artist-eva-hesse/
http://brooklynrail.org/2006/07/art/eva1
http://www.tate.org.uk/whats-on/tate-modern/exhibition/eva-hesse/eva-hesse-chronology