who was edward burne jones
William Morris & Co
Italy and the Renaissance Classics

The adornment of churches was an important part of their business. Burne-Jones designed stained glass windows, and panel figures for a royal project at St. James Palace, among others, and his work was shown at an 1862 International Exhibition, attracting much attention, and within a few years, his work flourished. In 1871 Burne-Jones designed windows at All Saints, and Christ Church Cathedral. His last major decorating commission before Morris's death in 1896 was at Stanmore Hall, which was his most extensive undertaking. It included a series of tapestries based on the story of the Holy Grail.
Burne-Jones initially painted in watercolors, but a curator's mistake actually sparked him to switch to oils. His watercolor Love among the Ruins, was destroyed by a restorer, thinking it was an oil painting, so Burne-Jones reproduced the same painting in oils. His first oil originals were the Briar Rose series, the Golden Stairs, Laus Veneris, the Pygmalion series, and The Mirror of Venus. This time of switching to oils, marked a partnership with Frederick Hollyer, a fine-art photographer, who helped to give Burne-Jones a wider audience for his beautiful paintings.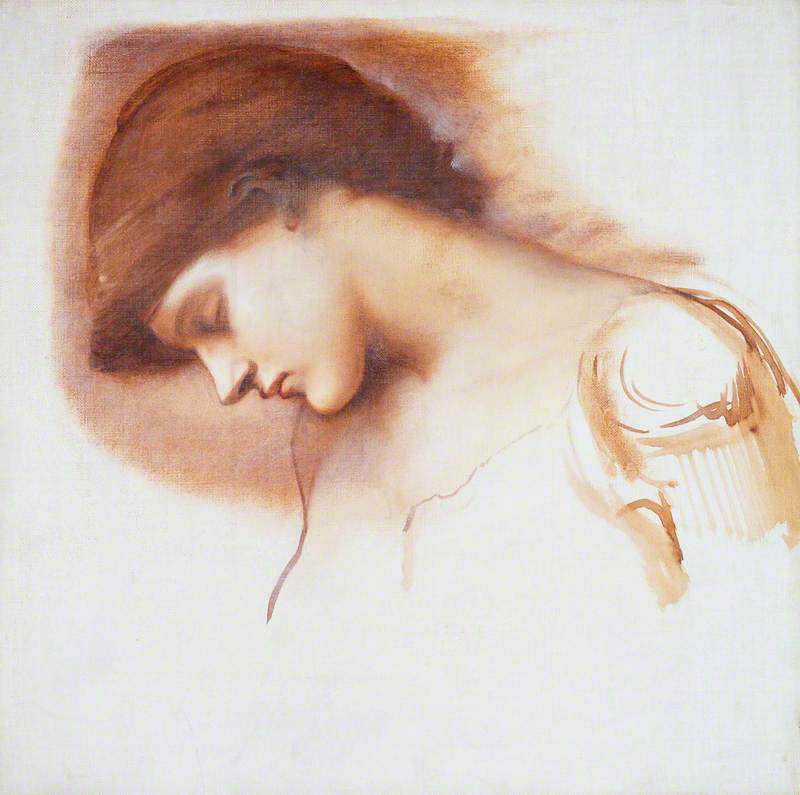 Victoria and Albert Museum
(b Birmingham, 28 Aug. 1833; d London, 16/17 June 1898). English painter, illustrator, and designer, a key figure in the second phase of Pre-Raphaelitism. In 1853 he began studying at Oxford University, intending to train for the priesthood, but his interest was turned to art first by William Morris, his fellow student, and then by Rossetti, who remained the decisive influence on him. He left Oxford without taking a degree in 1856 and settled in London.

Like many within the Pre-Raphaelite Brotherhood, Burne-Jones was fascinated with stories. The poems of his contemporaries inspired many of his paintings. Love Among the Ruins, one of his most celebrated paintings, take its title from the poem of the same name by Robert Browning. Browning's poem tells of two lovers who find each other in the ruin of a once great city. Burne-Jones used the moment of their reunion as the subject of his painting.
This portrait of McDonald conveys Burne-Jones's feelings towards his wife. Painted long after his affair, McDonald is shown holding book of flowers open at the page for pansy (also known as 'heartsease'), symbolising undying love. The composition of the portrait and way she is posed, slightly to the side with her arm leaning on a ledge in the foreground, is inspired by portraits of the Italian Renaissance. Though Burne-Jones was unhappy with the portrait it could be said to capture McDonald's personality: her serenity, self-confidence and courage. However, when you compare this with his depictions of daughter Margaret, it is possible to see an emotional distance between him and McDonald in this painting. Her stark features might in some way signify their changing love.
In the autumn of 1857 Burne-Jones joined Morris, Valentine Prinsep, J. R. Spencer Stanhope [13] and others in Rossetti's ill-fated scheme to decorate the walls of the Oxford Union. None of the painters had mastered the technique of fresco, and their pictures had begun to peel from the walls before they were completed. In 1859 Burne-Jones made his first journey to Italy. He saw Florence, Pisa, Siena, Venice and other places, and appears to have found the gentle and romantic Sienese more attractive than any other school. Rossetti's influence persisted, and is visible, more strongly perhaps than ever before, in the two watercolours of 1860, Sidonia von Bork and Clara von Bork. [12] Both paintings illustrate the 1849 gothic novel Sidonia the Sorceress by Lady Wilde, a translation of Sidonia Von Bork: Die Klosterhexe (1847) by Johann Wilhelm Meinhold. [14]
During the next seven years, 1870–1877, only two works of the painter's were exhibited. These were two water-colours, shown at the Dudley Gallery in 1873, one of them being the beautiful Love Among the Ruins, destroyed twenty years later by a cleaner who supposed it to be an oil painting, but afterwards reproduced in oils by the painter. This silent period was, however, one of unremitting production. Hitherto Burne-Jones had worked almost entirely in water-colours. He now began pictures in oils, working at them in turn, and having them on hand. The first Briar Rose series, Laus Veneris, the Golden Stairs, the Pygmalion series, and The Mirror of Venus are among the works planned and completed, or carried far towards completion, during these years. [12] These years mark the beginnings of Burne-Jones's partnership with the fine-art photographer Frederick Hollyer, whose reproductions of paintings and—especially—drawings would expose an audience to Burne-Jones's works in the coming decades. [24]
References:
http://totallyhistory.com/edward-burne-jones/
http://artuk.org/discover/artists/burne-jones-edward-18331898
http://www.tate.org.uk/art/artists/sir-edward-coley-burne-jones-bt-68/seven-sides-edward-burne-jones
http://en.m.wikipedia.org/wiki/Edward_Burne-Jones
http://en.m.wikipedia.org/wiki/Holy_Grail_tapestries