where do we come from what are we where are we going
[4] A letter of February 1, 1935 to the dealer Germain Seligmann, held by the Archives of American Art (Seligmann papers, box 426), states that the dealer Alfred Gold said the painting was still the property of Stang ("la grand Gauguin était toujours la proprieté de Stang") and that it would be included in the forthcoming Brussels exhibition. The writer has not been identified. Later that year, Gold lent the painting to the exhibition "L'impressionisme," Palais de Beaux-Arts, Brussels, June 15 – September 29, 1935, cat. no. 28. Gold purchased other works from the Stang collection, and almost certainly acquired this painting directly from him. As early as 1932, Gold acted as Stang's representative in lending the painting to the Kunsthaus, Zürich (February 20 – March 20, 1932); at the end of the loan period, the painting was sent to Paris.
Provenance 1898, sent by the artist in Tahiti to Georges Daniel de Monfreid (b. 1856 – d. 1929), Paris; consigned by Monfreid and his agent to Ambroise Vollard (b. 1867 – d. 1939), Paris [see note 1]; 1901, sold by Vollard to Gabriel Frizeau (b. 1870 – d. 1938), Bordeaux [see note 2]; probably 1913, sold by Frizeau to the Galérie Barbazanges, Paris; before 1920, sold by Barbazanges to J. B. Stang, Oslo [see note 3]; 1935, probably sold by Stang to or through Alfred Gold, Berlin and Paris [see note 4]. 1936, Marie Harriman Gallery, New York [see note 5]; 1936, sold by the Harriman Gallery to the MFA for $80,000. (Accession Date: April 16, 1936)
In a letter of March, 1899, Gauguin took the trouble to reply at some length, writing in what was for him a very friendly tone, to explain his method and intention. After mentioning the "musical" role that color plays in his pictures (and will play increasingly in modern painting a prophetic statement), and its power of evoking "what is the most general, and by the same token the most vague in nature its interior force," he continues:
After Gauguin recovered, in the spring of 1898, he sent the picture on to Paris, where it was shown at Ambroise Vollard's gallery. There it attracted considerable attention, and the critic Andre Fontainas discussed it at some length, sympathetically, but from a conventional point of view. For him the picture lacked any clear content; "There is nothing," he wrote, "that explains the meaning of the allegory."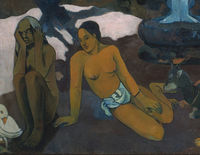 Gauguin's account of his own work –
Where do we come from? is an accentuation of Gauguin's Post-Impressionistic style. It is part of a body of work that stressed the vivid use of colors and thick brush strokes, while it aspired to convey an emotional or expressionistic strength. Gauguin's style emerged in conjunction with other Avant-garde movements of the 20th-century, including Cubism and Fauvism.

Where Do We Come From? What Are We? Where Are We Going? is a painting by French artist Paul Gauguin. Gauguin inscribed the original French title in the upper left corner: D'où Venons Nous / Que Sommes Nous / Où Allons Nous. The inscription the artist wrote on his canvas has no question mark, no dash, and all words are capitalized. In the upper right corner he signed and dated the painting: P. Gauguin / 1897. The painting was created in Tahiti, and is in the Museum of Fine Arts in Boston, Massachusetts, US.
Looking for a society more simple and elemental than that of his native France, Gauguin left for Tahiti in 1891. In addition to several other paintings that express his highly individualistic mythology, he completed this painting in 1897 or 1898. Gauguin considered it a masterpiece and the grand culmination of his thought. He was in despair when he undertook the painting, mourning the tragic death of his favourite daughter earlier in the year and oppressed by debts, and had planned to kill himself on finishing it. He subsequently made an unsuccessful attempt with an overdose of arsenic. Thomson thinks it quite possible that he only painted in the inscription while recovering from the attempt.
1897
oil on canvas, 139 x 375 cm. – Boston, Museum of Fine Arts
In such psychical condition Gauguin embarks on the epic task of creating his artistic testament, a work that resumes all his other creations: Where do we come from? What are we? Where are we going? is not only the most colossal canvas ever painted by Paul Gauguin, but it is also the work that explains the entire philosophical and pictorial doctrine of the artist.
References:
http://www.gauguin.org/where-do-we-come-from-what-are-we.jsp
http://www.artble.com/artists/paul_gauguin/paintings/where_do_we_come_from_what_are_we_where_are_we_going
http://www.wikiart.org/en/paul-gauguin/where-do-we-come-from-what-are-we-where-are-we-going-1897
http://www.theartwolf.com/masterworks/gauguin.htm
http://works.doklad.ru/view/FnHqXpdm0vk.html