what was the main purpose of roman art
In the late 600's B.C., the most powerful people in Italy were the Etruscans, who had come from Asia Minor and settled in Tuscany, an area north of Rome. Although the Etruscans imported Greek styles of art, they achieved much by themselves. They developed a very realistic type of portrait sculpture. They were also the first to introduce the use of the stone arch into architecture.
In A.D. 79, an eruption of the volcano Vesuvius destroyed the city of Pompeii, covering it with layers of lava that hardened into rock. The wall paintings preserved in this rock tell us nearly everything we know about Roman painting.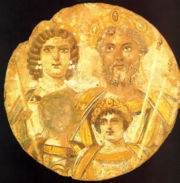 The Romans didn't invent the arch – it was known but not much used in Greek architecture – but they were the first to master the use of multiple arches, or vaults. From this, they invented the Roman groin vault – two barrel vaults set at right-angles – which represented a revolutionary improvement on the old Greek post-and-lintel method, as it enabled architects to support far heavier loads and to span much wider openings. The Romans also made frequent use of the semicircular arch, typically without resorting to mortar: relying instead on the precision of their stonework.
The reason for Rome's cultural inferiority complex remains unclear. Some Classical scholars have pointed to the pragmatic Roman temperament; others, to the overriding Roman need for territorial security against the waves of marauding tribes from eastern and central Europe and the consequent low priority accorded to art and culture. To which we might add that – judging by the narrowness of Celtic art (c.500 BCE – 100 CE) – Roman artists weren't doing too badly. Moreover, we should note that cities in Ancient Rome were less provincial and far more powerful than Greek city-states, so that its art invariably played a more functional role – not least because Roman culture was actually a melange of different beliefs and customs, all of which had to be accomodated. Thus, for example, art quickly became something of a status symbol: something to enhance the buyer's home and social position. And since most Romans recognized the intrinsic value of Greek artistry, buyers wanted Greek-style works.
Noble Roman families would often display portraits of ancestors in the atrium of family house. Tombs would often be decorated with masks, busts and portraits of the deceased person. There are no surviving ceremonial masks, however, many of the busts have been recovered and are detailed in illustrating the faces of historical figures. Funeral masks would have been made using wax and would have probably been moulded directly from the deceased person. Funeral busts would depict the deceased along with their immediate family and sometimes even their slaves. The figures would be shown wearing a toga whilst the women would hold a pundictia pose.
The Romans used many materials when creating sculptures, these included stone, metals and glass. However, as metals such as bronze were in high demand many of them were melted down to be re-used. That's why today the only remaining sculptures were made using marble. Towards the middle of the first century AD, Roman art began to become more realistic with emphasis being put on optical affects and facial features. Beyond the second century AD, Roman art became more impressionist, utilizing abstract forms and the effect of light.

Roman mosaics artists developed their own styles, and production schools were formed across the empire which cultivated their own particular preferences – large-scale hunting scenes and attempts at perspective in the African provinces, impressionistic vegetation and a foreground observer in the mosaics of Antioch, or the European preference for figure panels, for example. The dominant (but not exclusive) Roman style in Italy itself used only black and white tesserae, a taste which survived well into the 3rd century CE and was most often used to represent marine motifs, especially when used for Roman baths. Over time the mosaics became ever more realistic in their portrayal of human figures, and accurate and detailed portraits become more common. Meanwhile, in the Eastern part of the empire and especially at Antioch, the 4th century CE saw the spread of mosaics which used two-dimensional and repeated motifs to create a 'carpet' effect, a style which would heavily influence later Christian churches and Jewish synagogues.
The interiors of Roman buildings of all description were very frequently sumptuously decorated using bold colours and designs. Wall paintings, fresco, and the use of stucco to create relief effects were all commonly used by the 1st century BCE in public buildings, private homes, temples, tombs, and even military structures across the Roman world. Designs could range from intricate realistic detail to highly impressionistic renderings which frequently covered all of the available wall space including the ceiling.

After moving through a late 2nd century "baroque" phase, [44] in the 3rd century, Roman art largely abandoned, or simply became unable to produce, sculpture in the classical tradition, a change whose causes remain much discussed. Even the most important imperial monuments now showed stumpy, large-eyed figures in a harsh frontal style, in simple compositions emphasizing power at the expense of grace. The contrast is famously illustrated in the Arch of Constantine of 315 in Rome, which combines sections in the new style with roundels in the earlier full Greco-Roman style taken from elsewhere, and the Four Tetrarchs (c. 305) from the new capital of Constantinople, now in Venice. Ernst Kitzinger found in both monuments the same "stubby proportions, angular movements, an ordering of parts through symmetry and repetition and a rendering of features and drapery folds through incisions rather than modelling. The hallmark of the style wherever it appears consists of an emphatic hardness, heaviness and angularity – in short, an almost complete rejection of the classical tradition". [45]
Pliny, Ancient Rome's most important historian concerning the arts, recorded that nearly all the forms of art – sculpture, landscape, portrait painting, even genre painting – were advanced in Greek times, and in some cases, more advanced than in Rome. Though very little remains of Greek wall art and portraiture, certainly Greek sculpture and vase painting bears this out. These forms were not likely surpassed by Roman artists in fineness of design or execution. As another example of the lost "Golden Age", he singled out Peiraikos, "whose artistry is surpassed by only a very few . He painted barbershops and shoemakers' stalls, donkeys, vegetables, and such, and for that reason came to be called the 'painter of vulgar subjects'; yet these works are altogether delightful, and they were sold at higher prices than the greatest paintings of many other artists." [2] The adjective "vulgar" is used here in its original meaning, which means "common".
References:
http://www.visual-arts-cork.com/roman-art.htm
http://www.knowtheromans.co.uk/Categories/RomanArt/
http://www.ancient.eu/Roman_Art/
http://en.m.wikipedia.org/wiki/Roman_art
http://ourpastimes.com/what-are-the-differences-between-greek-art-roman-art-12279193.html