what did kurt schwitters use to make merz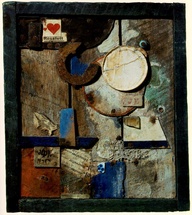 In October 1945 the German artist Kurt Schwitters, who had been living in Britain since 1940, wrote a fairytale about a man with a glass nose. At first the man's nose is covered with skin and looks much like a normal nose, but the skin gradually becomes thinner and eventually vanishes completely. What it reveals is quite the work of art: the nose "could reflect the most improbable lights and colours and allowed objects to shine through in fragments". Soon, everyone wants to have a glass nose. Unfortunately, such noses also have a downside: they allow you to smell people's true thoughts, and those who compliment him most smell the worst. Don't listen to people, seems to be the moral of the story. Or in the words of Schwitters's anti-Pinocchio to his flatterers: "You smell of cheese!"
This wall forms part of the third and last Merzbau (or sculptural installation), constructed by the celebrated collagist Kurt Schwitters in his Lake District barn. It is now on permanent display in Newcastle University's Hatton Gallery.

England in the 1940s

Merzbild 5B (1919)
Mixed-media sculpture

Merz Picture 32A belongs to the so-called Merz series, a term Schwitters made up by cutting a scrap from the second syllable of the German word "Kommerz" (commerce), which he included in one of his early collage paintings. Schwitters was trained as a painter, but as World War I came to an end he adopted collage as his preferred process, saying, "Everything had broken down in any case and new things had to be made out of the fragments." 1  With his Merz project he aimed "to create connections, preferably between everything in this world."
1921. Cut-and-pasted colored and printed paper, cloth, wood, metal, cork, oil, pencil, and ink on board, 36 1/8 x 27 3/4″ (91.8 x 70.5 cm)
During his time in Ambleside Schwitters created a sequence of proto-pop art pictures, such as For Käte, 1947, after the encouragement from his friend, Käte Steinitz. Having emigrated to the United States in 1936, Steinitz sent Schwitters letters describing life in the emerging consumer society, and wrapped the letters in pages of comics to give a flavour of the new world, which she encouraged Schwitters to 'Merz'. [56]
He was soon provided studio space and took on students, many of whom would later become significant artists in their own right. [45] He produced over 200 works during his internment, including more portraits than at any other time in his career, many of which he charged for. [46] He contributed at least two portraits to the second art exhibition within the camp in November 1940, and in December he contributed (in English) to the camp newsletter, The Camp.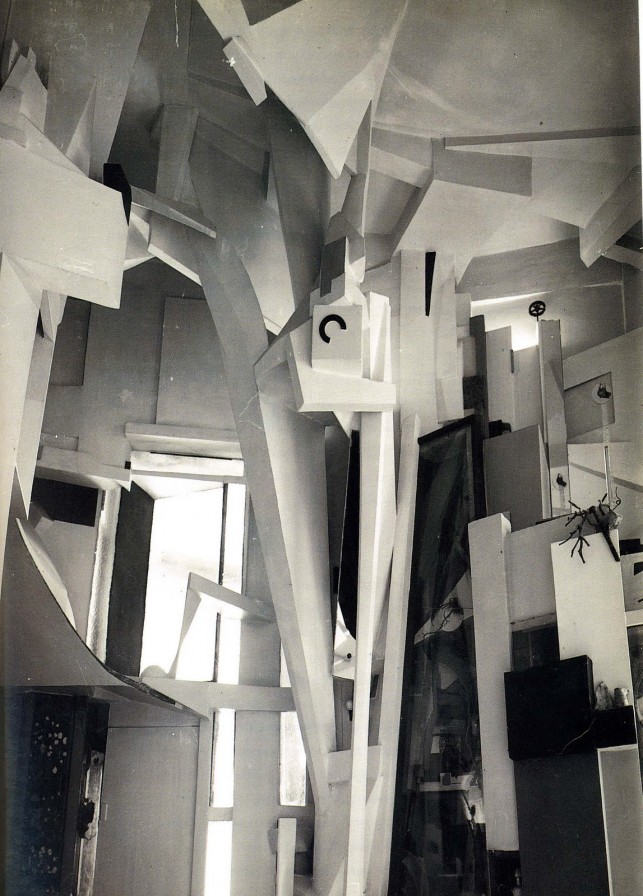 Schwitters worked on the Hanover Merzbau from around 1923 until 1937, when he fled to Norway to escape the threat of Nazi Germany. Sadly, in 1943, while he was in exile, it was destroyed in an Allied bombing raid. The original Merzbau was gone forever. No one would ever again be able to stop in to chat with Schwitters and examine his growth of a studio.В So how can we learn more about this once-living work of art?
Schwitters had a fascinating relationship with MoMA—a museum he always wanted to visit, but never could before his death in 1948. For more information, I highly recommend the essay that New York–based art historian Adrian Sudhalter presented at a 2007 symposium at the Sprengel Museum. You may read it here.
References:
http://www.visual-arts-cork.com/famous-artists/kurt-schwitters.htm
http://www.moma.org/learn/moma_learning/kurt-schwitters-merz-picture-32-a-the-cherry-picture-1921/
http://en.m.wikipedia.org/wiki/Kurt_Schwitters
http://www.moma.org/explore/inside_out/2012/07/09/in-search-of-lost-art-kurt-schwitterss-merzbau/
http://www.coursehero.com/file/p408kmt/4-out-of-4-points-What-did-the-Surrealists-attempt-to-capture-in-literature-and/