umberto boccioni, unique forms of continuity in space

The Futurist movement was striving to portray speed and forceful dynamism in their art. Boccioni, though trained as a painter, began sculpting in 1912. He exclaimed that "these days I am obsessed by sculpture! I believe I have glimpsed a complete renovation of that mummified art." [2] The following year Boccioni completed the sculpture. His goal for the work was to depict a "synthetic continuity" of motion instead of an "analytical discontinuity" that he saw in artists like František Kupka and Marcel Duchamp. [3] In 1912–13 Boccioni created several other sculptures [4] including his 1913 Development of a Bottle in Space.
Though Boccioni apparently reviled traditional sculpture, Unique Forms of Continuity in Space does resemble more realist works. [6] It is reminiscent of the classical Winged Victory of Samothrace, which Filippo Marinetti, founder of Futurism, declared was inferior in beauty to a roaring car. [7] The lack of arms also pays homage to Auguste Rodin's Walking Man. [8]
Unique Forms of Continuity in Space integrates trajectories of speed and force into the representation of a striding figure. It does not depict a particular person at a specific moment, but rather synthesizes the process of walking into a single body. For Boccioni, one of the key figures in the Italian Futurist movement, this was an ideal form: a figure in constant motion, immersed in space, engaged with the forces acting upon it.
Boccioni professed no love for classical or Renaissance sculpture. In Futurist Painting Sculpture, a manifesto-style book published in 1914, he wrote that "anyone today who considers Italy to be the country of art is a necrophiliac who thinks of a cemetery as a delightful little alcove." He declared that art should "have a strict historical relation with the moment in which it appears"; the sculpture of the early twentieth century, he felt, would evoke the speed and dynamism of Italy's recent industrialization. Boccioni and the other Futurists even embraced the coming world war as a natural development, one that would destroy the remnants of the past and bring humans and machines closer together.

The earliest bronze cast is the one now in the collection of Gianni Mattioli in Milan, who recalls that he bought it from Fedele Azari at least two years before the latter's death in 1930, that is to say by about 1928. There is no record of where or when it was made, but most probably this was about 1925-6. (None of Boccioni's sculptures seem to have been cast in bronze during his lifetime). It would seem that Azari owned the plaster at this time and that it then passed after his death to Marinetti, who had two bronzes made from it in 1931 by the foundry Gaetano Chiaruzzi of Rome which were sold to the Galleria d'Arte Moderna, Milan, and the Museum of Modern Art, New York, in 1934 and 1948 respectively. Both these, like the cast in the Mattioli collection, include the blocks on which the figure is standing but not the base. Then in 1949 Signora Marinetti had two further bronze casts made by the foundry Giovanni and Angelo Nicci, Rome, which this time include the base, like the original plaster. These now belong to Paolo Marinotti, Milan, and Dr and Mrs Barnett Malbin (The Lydia and Harry Lewis Winston Collection), New York.
Does this text contain inaccurate information or language that you feel we should improve or change? We would like to hear from you.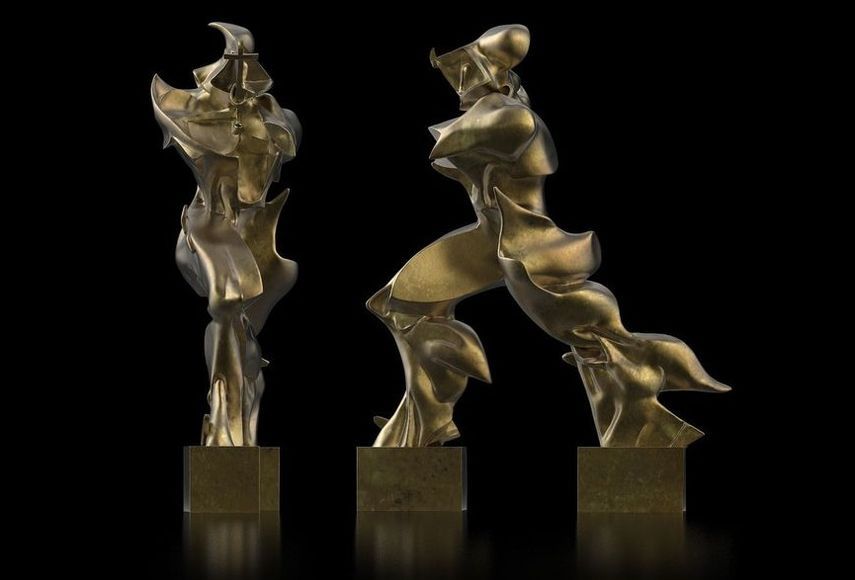 Yet, the lightness that was inscribed in the plaster sculpture due to its white color that was purposely left, is lost in the translation in bronze.
Yet, Boccioni's sculpture is quite reminiscent of the ancient classical piece Winged Victory of Samothrace. Perhaps it was kind of homage, or maybe he was trying to outdo the ancients. The piece also pays homage to Auguste Rodin's Walking Man.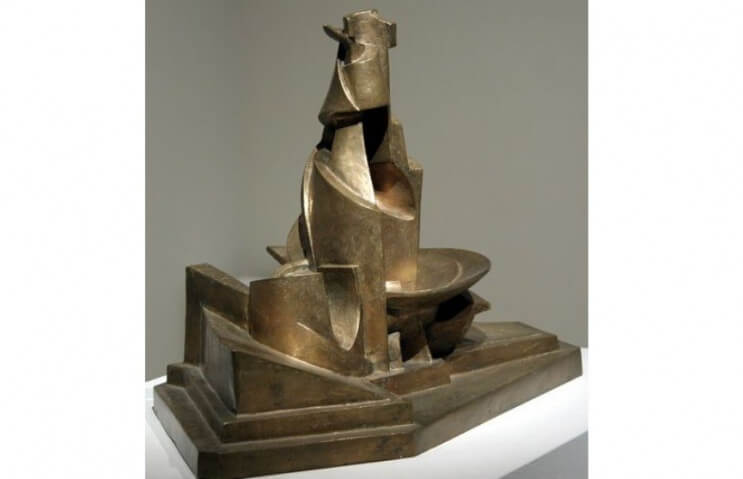 Early Modernist artists were fascinated with movement. Cubists showed movement by painting subjects from multiple simultaneous perspectives. Orphists focused on color's vibrational qualities. Dynamists depicted movement through repetition. Futurists expressed movement by aestheticizing speed. Umberto Boccioni was the father of Futurist sculpture. Boccioni's Unique Forms of Continuity in Space, a sculpture depicting an abstracted, quasi-human form in motion, was considered at the time of its making to represent the height of achievement when it came to depicting movement through the plastic arts. As Futurism's leading art theorist, Boccioni considered the work of other Modernist artists to be mired in what he called "analytical discontinuity," meaning their attempts to show life disproved themselves through their lack of vitality. With his own work, Umberto Boccioni strove to achieve the elusive aesthetic goal of "synthetic continuity." Rather than trying to imitate or mimic motion, he intuitively sought to convey the truth of motion through abstract means.
Over the course of the year following the creation of this document, Boccioni created a dozen sculptures. He cast them only in plaster, evidently demonstrating the classic Futurist mentality, being concerned more with ideals than with making something that will last through the ages. His sculptures were primarily concerned with the idea of conveying what he called "succession," or a series of events. He called artists "stupid" who believed that succession could be achieved through visual tricks, such as repetition (as in Dynamism) or painting from multiple perspectives (as in Cubism). He believed that succession should be conveyed by a single abstracted composition, through an "intuitive search for the unique form which gives continuity in space." Umberto Boccioni used that phrase as the title of one of those first dozen sculptures, which he believed embodied the idea's essence. The multiple bronze castings of that piece, Unique Forms of Continuity in Space, that exist in museums around the world today were all made after Boccioni died. The original plaster piece can be found in São Paulo, Brazil, at the Museu de Arte Contemporânea.
References:
http://www.moma.org/collection/works/81179
http://www.tate.org.uk/art/artworks/boccioni-unique-forms-of-continuity-in-space-t01589
http://www.widewalls.ch/unique-forms-of-continuity-in-space/
http://www.ideelart.com/magazine/umberto-boccioni-unique-forms-of-continuity-in-space
http://jacoblawrencegallery.hotglue.me/