sol lewitt eve hesse letter

Doing is particularly hard for artists who are in the beginning stages of their creative field. As Ira Glass has explained, there is often a gap between taste and skill when starting out. We aspire to become artists because we love great music, paintings, or books. But there is often a gulf between our aspirations and our skills. Overcome by self-doubt and indecision, many beginners quit at this stage. But artists who have the nerve to push through this awkward, uncomfortable phase evolve and eventually improve. Over time, they find their own unique style, the right medium, and a routine that makes original art possible.
My work had changed since you left and it is much better. I will be having a show May 4 -9 at the Daniels Gallery 17 E 64th St (where Emmerich was), I wish you could be there.

Reading the letter on stage, the Oscar-nominated, Golden Globe-winning actor Benedict Cumberbatch practically foams at the mouth.
Just stop thinking, worrying, looking over your shoulder, wondering, doubting, fearing, hurting, hoping for some easy way out, struggling, grasping, confusing, itching, scratching, mumbling, bumbling, grumbling, humbling, stumbling, numbling, rambling, gambling, tumbling, scumbling, scrambling, hitching, hatching, bitching, moaning, groaning, honing, boning, horse-shitting, hair-splitting, nit-picking, piss-trickling, nose sticking, ass-gouging, eyeball-poking, finger-pointing, alleyway-sneaking, long waiting, small stepping, evil-eyeing, back-scratching, searching, perching, besmirching, grinding, grinding, grinding away at yourself. Stop it and just


M and I were talking about this, so he sent me a copy of it. I thought I'd put it here, because it's good advice:
I have much confidence in you and even though you are tormenting yourself, the work you do is very good. Try to do some BAD work – the worst you can think of and see what happens but mainly relax and let everything go to hell – you are not responsible for the world – you are only responsible for your work – so DO IT. And don't think that your work has to conform to any preconceived form, idea or flavor. It can be anything you want it to be. But if life would be easier for you if you stopped working – then stop. Don't punish yourself. However, I think that it is so deeply engrained in you that it would be easier to DO!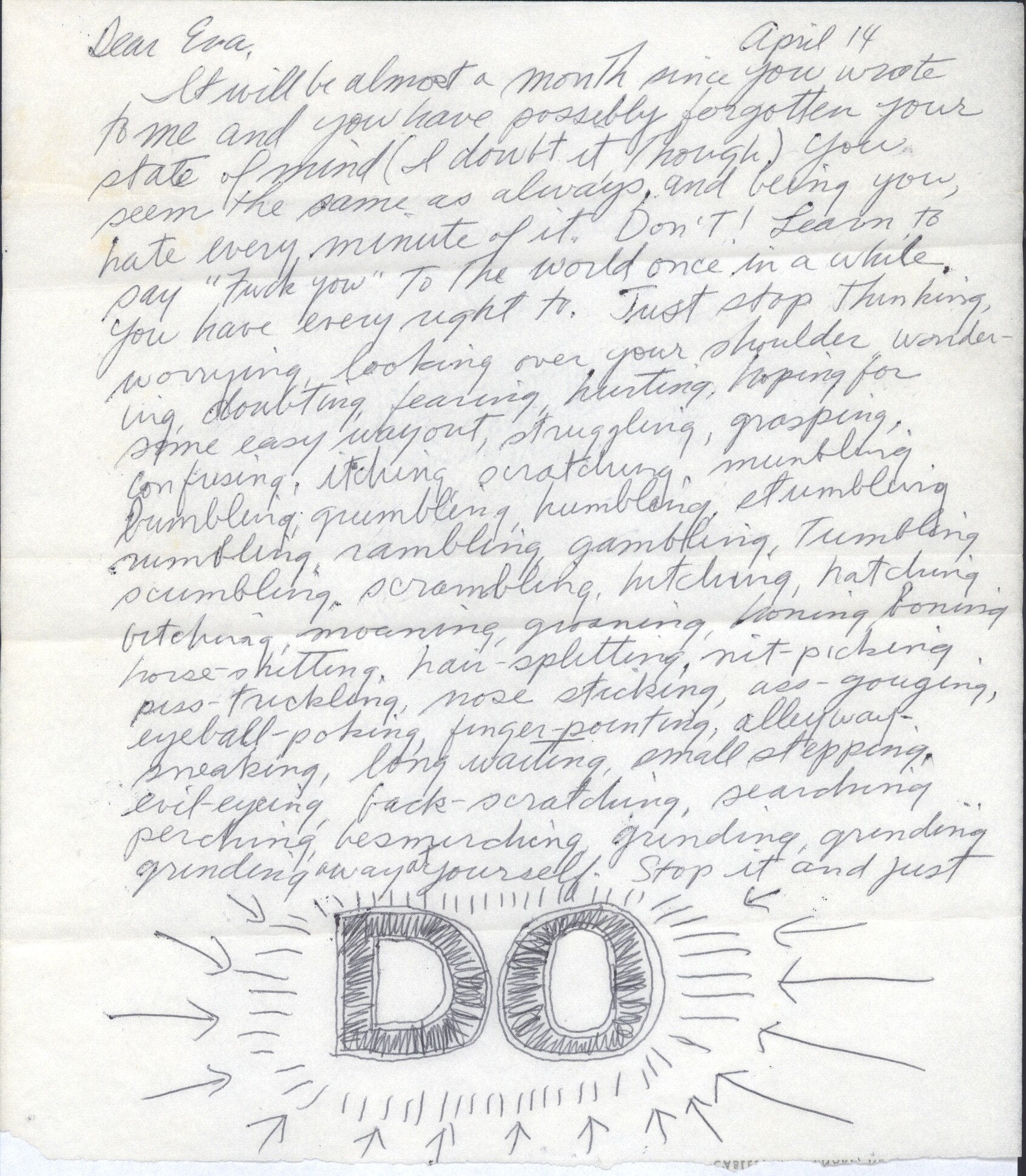 "Eva Hesse," which is currently raising distribution funds on Kickstarter, aims to shed light on Hesse's role in NYC's creative downtown community in particular, linking together her childhood in 1930s Germany with her burgeoning feminist artwork in America. Begleiter interviewed art giants like Richard Serra and Nancy Holt, splicing this footage with archival material from the '60s. Selma Blair provides the narration, comprised primarily of Hesse's own words excerpted from her journals.
In an effort to overcome her sudden lack of confidence in herself and her work, she reached out to fellow artist Sol LeWitt. In the spring and summer of 1965, LeWitt, famous for his conceptual murals, sent Hesse the following advice:

This was performed 3 days before Weinstein's 23 year prison sentence was given, on International Women's Day: https://youtu.be/P5beTUEugEM
'Every single person has a purpose in them burning.
Look again.
Allow yourself to see them.'
References:
http://hyperallergic.com/331433/benedict-cumberbatch-passionately-reads-sol-lewitts-famous-letter-to-eva-hesse/
http://jwvpk.wordpress.com/2009/03/10/letter-from-sol-lewitt-to-eva-hesse/
http://m.huffpost.com/us/entry/us_562f79ede4b00aa54a4b18d8
http://m.facebook.com/LettersLiveLON/videos/2481979438736749/
http://deidreadams.com/eva-hesse-contingent/