schwitters artist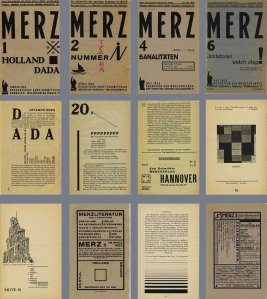 A comparison of the two recordings is recommended. Blonk is incredible.
Very complete article on Wikipedia
In 1918, his art was to change dramatically as a direct consequence of Germany's economic, political, and military collapse at the end of the First World War.
Kurt Hermann Eduard Karl Julius Schwitters (20 June 1887 – 8 January 1948) was a German artist who was born in Hanover, Germany.
About 1920 Schwitters conceived the idea of building a cathedral of everyday objects. He built this three-dimensional assemblage, called Merzbau ("Merz building"), into his house in Hannover and continued to add to it for 16 years until there was little room left in the house for anything else. Unfortunately, it was destroyed during World War II.
Soon after World War I Schwitters was attracted by the emerging Dada school, a nihilistic literary and artistic movement dedicated to the destruction of existing aesthetic values. Denied membership in the Berlin circle of Dadaists, he formed his own variant in Hannover. He began to create compositions assembled from various everyday objects (train tickets, wooden spools, newspaper, string, cigarettes, and postage stamps). Similarly, his poems were composites of newspaper headlines, advertising slogans, and other printed ephemera. He referred to all of his artistic activities as Merz, a nonsense word derived from the second syllable of the word Kommerz (German: "commerce"). His collages were called Merzbilden ("Merz pictures"). Later, he also referred to all of his daily activities and even to himself by that name.

Schwitters was to come into contact with Herwarth Walden after exhibiting expressionist paintings at the Hanover Secession in February 1918. He showed two Abstraktionen (semi-abstract expressionist landscapes) at Walden's gallery Der Sturm, in Berlin, in June 1918,. This resulted in meetings with members of the Berlin Avant-garde, including Raoul Hausmann, Hannah Höch, and Hans Arp in the autumn of 1918.
Kurt Schwitters was born on 20 June 1887 in Hanover, at Rumannstraße No.2, now: No. 8, the only child of Eduard Schwitters and his wife Henriette (née Beckemeyer). His father was (co-)proprietor of a ladies' clothes shop. The business was sold in 1898, and the family used the money to buy some properties in Hanover, which they rented out, allowing the family to live off the income for the rest of Schwitters' life in Germany. In 1893, the family moved to Waldstraße (later Waldhausenstraße) 5, future site of the Merzbau. In 1901, Schwitters suffered his first epileptic seizure, a condition that would exempt him from military service in World War I until late in the war, when conscription was loosened.

Directly affected by the depressed state of Germany following World War I, and the modernist ethos of the Dada movement, Kurt Schwitters began to collect garbage from the streets and incorporate it directly into his art work. The resulting collages were characterized by their especially harmonious, sentimental arrangements and their incorporation of printed media. He actively produced artistic journals, illustrated works, and advertisements, as well as founding his own Merz journal. He wrote poems and musical works that played with letters, lacing them together in unusual combinations, as he'd done in the collages, in the hope of encouraging his audience to find their own meanings. His multiple avant-garde efforts culminated in his large merzbau creations. These works, collaborations with other avant-garde artists, would start with one object to which others were added, causing the whole piece to change and evolve over time, growing to great proportions that forced the viewer to actually experience, rather than simply view, the art.
German Painter, Collagist, and Writer
References:
http://en.m.wikipedia.org/wiki/Kurt_Schwitters
http://www.britannica.com/biography/Kurt-Schwitters
http://www.wikiart.org/en/kurt-schwitters
http://m.theartstory.org/artist/schwitters-kurt/
http://m.theartstory.org/artist/schwitters-kurt/