piet mondrian composition

Composition II with Red Blue and Yellow is a product of the Dutch De Stijl movement, which translates to "The Style." [2] The De Stijl foundation can be viewed as an overlapping of individual theoretical and artistic pursuits. Mondrian is widely seen as the prominent artist for the movement and is thus held responsible for bringing popularity to the rather obscure style. [3] Born in the Netherlands in 1872, Mondrian is cited as always having an interest in art. This transformed from a hobby to a passion when his uncle, Fritz Mondrian (a professional painter), helped him move to Amsterdam where he studied for three years at the Academy of Fine Arts under the master August Allebé. [3] When he moved to Paris in 1910, Mondrian began to discover his potential. [3] It was in Paris that he was introduced to Cubism, a major influence to his work. He is quoted as having said "of all the abstraction artists, I felt only the Cubists had found the right path." . [3] He still found this style too naturalistic however, and began to dive even deeper into abstraction. A short visit back to the Netherlands led to an extended stay for five years due to the outbreak of World War 1 (1914). [3] Although an unexpected turn of events, Mondrian made many important connections during this time that led to establishment of De Stijl. An encounter with fellow Dutch artist Bart van der Leck provided ground for Mondrian to exchange ideas. From van der Leck he received the concept of painting flat areas of pure color; a solution to Mondrian's problem of coloring – he was then using color in what he considered an Impressionist way, which was too restless and emotional. In return, van der Leck adopted Mondrian's concept of crossed vertical and horizontal lines as a basis for composition. [3] These two technical elements are consistent throughout all of Mondrian's work. Shortly after the formation of Mondrian and van der Leck's working relationship, they were contacted by Theo van Doesburg, a painter who frequently wrote about art for different periodicals and whom is considered the propagandist of the De Stijl movement. He invited Mondrian and van der Leck to join his initiative to start an artistic review periodical. They agreed and the result of this was the journal entitled De Stijl. [3]
Together they formed an artistic collective that consisted not only of painters but also architects; the movement was confined to strictly Dutch areas due to war. These artists cannot be considered the same. For example, not all De Stijl artists produced work that mimicked Mondrian. It was more a group of individual artists/architects who applied similar and distinct techniques to their work in hopes of achieving a similar, theoretical goal. Mondrian attempts to define the ambition of De Stijl artists in his personal artistic manifesto, Neo-Plasticist in Painting (1917). To create the essence of life itself through abstraction, which relies on what he refers to as the universal means of expression: straight lines and primary colors. [4] This essence of life can be illustrated by transcending the particular to express the universal. Mondrian claimed the particular to be associated with a Romantic, subjective appeal. Thus, the universal must be something that goes beyond the [4] surface of nature. Mondrian's art also had a clear spiritual quality to it. He practiced Theosophy, a self-styled universal religion rooted in mystic, oriental interpretation that promoted opposites as a form of unity. [5] Theosophical philosophy informing Mondrian's art is evidence of their shared terminology. Nieuwe Beelding, a word used in Theosophical teachings, makes an appearance in Mondrian's work in a major way: as an alternative title to De Stijl, Nieuwe Beelding translates to Neo-Plasticism, a term used in Mondrian's personal essays to describe his art.

Does this text contain inaccurate information or language that you feel we should improve or change? We would like to hear from you.
It seems that this picture was started in his very austere style of the latter half of the 1930s as a predominantly linear composition, with only one small rectangle of colour, and that he afterwards made various modifications to it which made it much more colourful and gayer in feeling.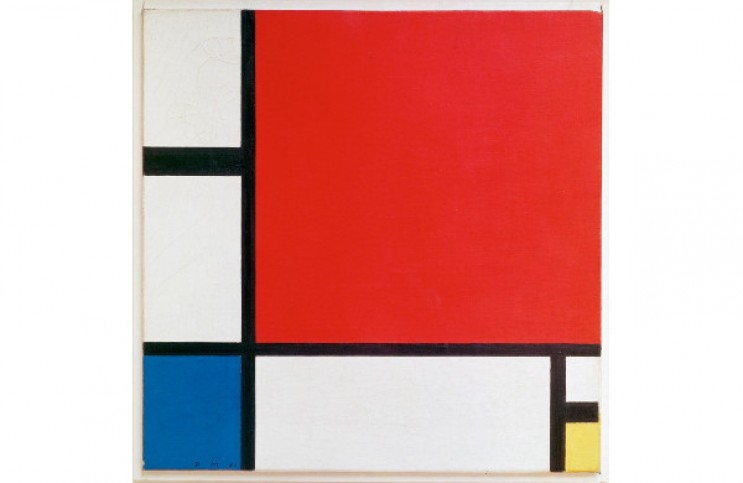 Some people say that in order to understand the true message of what a person is saying you have to read between the lines. In the case of "Composition with Red Blue and Yellow" it is the lines themselves that carry a hidden message. It is well known that Mondrian sought balance in his work. He wrote extensively about compositional harmony as a reaction against chaos. He achieved that sense of harmony by relentlessly seeking balance between the plastic elements of his pictures. The placement of colors, the size of the shapes, and the qualities of the surfaces played off of each other in ways that either left him feeling off-balance or in balance. The quest was always to discover the perfect point at which a composition achieved a sort of stillness.
Piet Mondrian painted "Composition with Red Blue and Yellow" in 1930. It marks a subtle turning point in the evolution of his distinctive, singular style of painting, which he called Neo-Plasticism. His visual voice came about through a meticulous, daily striving towards complete abstraction, which he believed was a way to express a universal purity through the plastic arts. It was in 1920, the same year he published his book Le Néo-Plasticisme, that Mondrian painted his first grid paintings, featuring the black horizontal and vertical lines and rectangular fields of pure color for which he is now most known. Early on in his exploration of this unique position, Mondrian experimented with multiple colors and tones, and explored a wide variety of configurations for both his canvases and for the shapes within his compositions. By the time of his death in 1944, he had arrived at a fantastically complex and mature vision, embodied by his masterpiece, "Broadway Boogie Woogie." It was in the middle of that evolution that he painted "Composition with Red Blue and Yellow." It may not be obvious why this work is remarkable, or why it marks an important turning point. But there are some aspects of it that clearly set it apart from so many other paintings Mondrian made, and which signal a point in his development when Mondrian himself was becoming transformed.

Piet Mondrian is a Dutch artist best known for his abstract paintings. Art that is abstract does not show things that are recognisable such as people, objects or landscapes. Instead artists use colours, shapes and textures to achieve their effect
This is the Piet Mondrian in his Paris studio.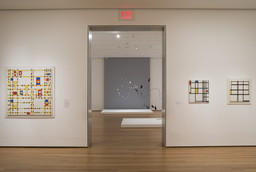 Piet Mondrian, New York.
[Estate of Piet Mondrian (Harry Holtzman), New York]
By 1957, Lee A. Ault, New York.
1957 – 1967, Sidney Janis, New York, acquired from Lee Ault.
1967, The Museum of Modern Art, New York, acquired as gift from Sidney and Harriet Janis.
This work is included in the Provenance Research Project, which investigates the ownership history of works in MoMA's collection.
References:
http://www.tate.org.uk/art/artworks/mondrian-composition-with-yellow-blue-and-red-t00648
http://www.ideelart.com/magazine/composition-with-red-blue-and-yellow
http://www.tate.org.uk/kids/explore/who-is/who-piet-mondrian
http://www.moma.org/collection/works/80160
http://www.piet-mondrian.org/