piet mondrian broadway boogie woogie

In a new paper in Heritage Science, researchers at the Museum of Modern Art in New York use state-of the-art techniques to analyse Piet Mondrian's emblematic Broadway Boogie Woogie.
Broadway Boogie Woogie is one of Piet Mondrian's final pieces, a highly influential piece of abstract geometry that uses deceptively simple blocks of color to evoke the shimmering neon streets of Manhattan, where Mondrian spent the last years of his life following the chaos that engulfed his native Europe.
One of the reasons for this renewal in Mondrian's work is without doubt reflected in the title: boogie-woogie music, with its unexpected syncopation of rhythm, is elaborated visually in this painting. Passionately devoted as he was to dancing and rhythm, Mondrian had always been attracted by the latest in ballroom music, advocating the tango and one- and two-steps over the waltz. In the late 1920s he named two paintings Fox Trot A and B after the popular American dance recently introduced into Europe. And boogie-woogie obviously had a profound impact on him. Nevertheless, the most important factor in the origin of this painting, and of the "mutation" in his art, must have been the experience of the daily rhythm of New York itself, the pulsating movement that animates Broadway, especially at night, and, in thorough keeping with the old principles of De Stijl, creates a harmony out of the opposition of contraries.
In the completion of Broadway Boogie-Woogie the same sort of process took place as in the final reworking of Composition London. The painting seems initially to have been based on lines, mainly yellow, running through it (and in this respect closely related to New York City I) and on some connecting bands of different color, which brought about a change in direction and proportion. To this basic composition were added small blocks of red, blue, gray, and sometimes the same yellow as the traversing lines, giving the whole a new tempo, an entirely unexpected movement, a bouncing staccato rhythm. This new tempo is perhaps the most striking aspect. Whereas Mondrian's early paintings were built up out of long continuous lines and large planes, which could be compared to whole or half notes in music, there now appear much smaller forms, comparable to eighth and sixteenth notes, contrasting only here and there with larger areas. This innovation, which evidently took place while Mondrian was working on the painting, gives the canvas a new and sparkling vivacity.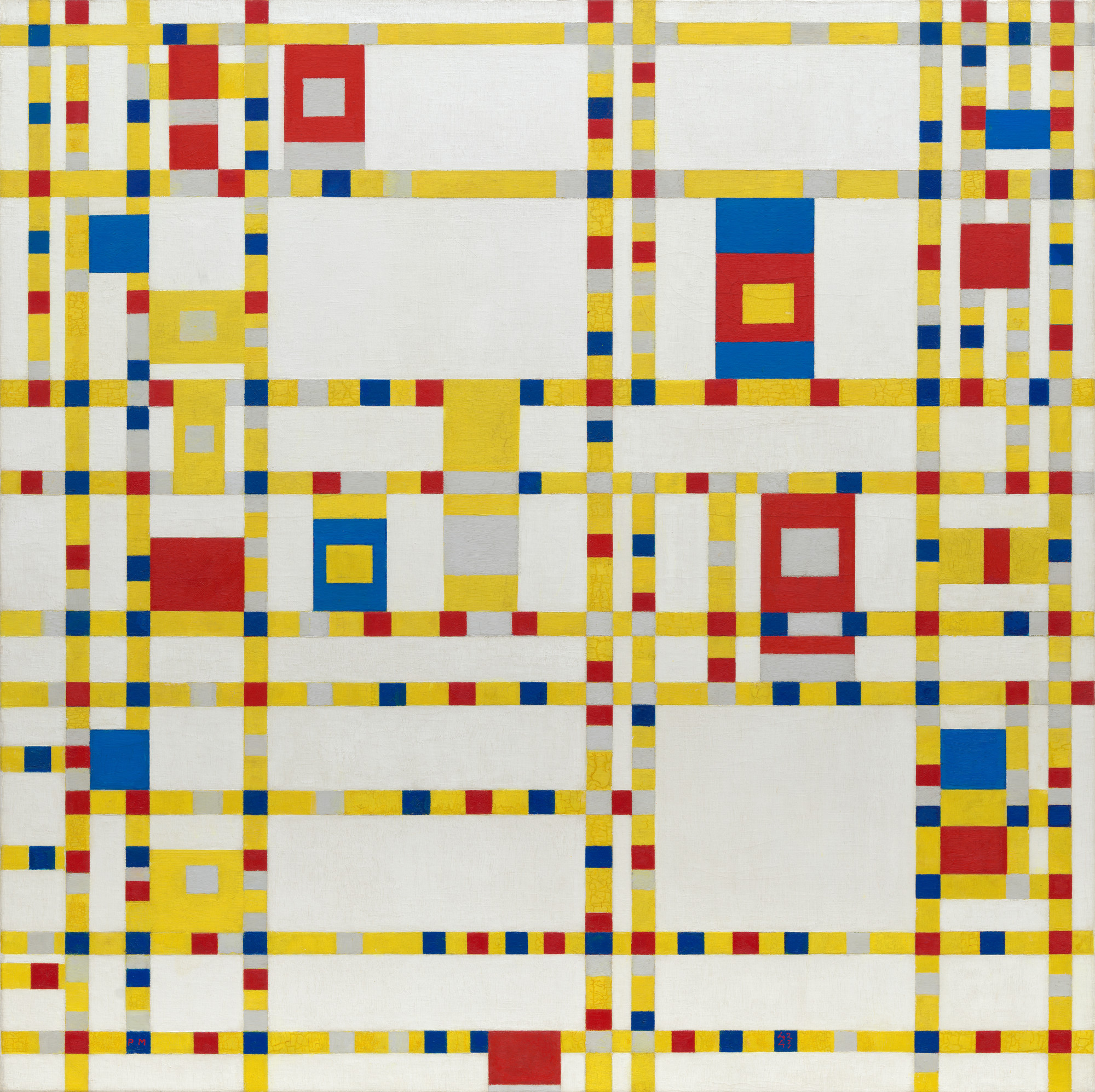 Ann Temkin: This painting is titled Broadway Boogie-Woogie. It was made by the Dutch-born artist Piet Mondrian in 1942.
This is strikingly different from the quite ascetic and sober earlier Mondrian. And it's quite a remarkable thing because Mondrian had come to New York during World War II, as an exile from Europe, had to begin a whole new life as an older man, and adapted to New York City with such enthusiasm and such alacrity. He developed a passionate enthusiasm for boogie-woogie, for American jazz. He also was a great dancer, loved going out and dancing to live bands at places around midtown Manhattan.

Considered Mondrian's masterpiece, Broadway Boogie Woogie is a shimmering combination of multi-colored grid lines, complete with blocks of color, all in the primary palette. This piece represents another development in the unique style of the artist, which may have been the most profound. After the abandonment of representational forms in 1913 and the reconciliation of his spiritual concerns with his aesthetic, Mondrian had finally developed the transition of solid black lines to lines consisting of multi-colored, vibrant hues, creating an entirely new feeling. This painting represents Mondrian's seminal work as an artist, and unlike much of his work, is not entirely non-representational. One can see the grid of the Manhattan city streets and feel the beat of the boogie woogie music of which Mondrian was so fond.
Broadway Boogie Woogie is a painting by Piet Mondrian completed in 1943, shortly after he moved to New York in 1940. Compared to his earlier work, the canvas is divided into a much larger number of squares. Although he spent most of his career creating abstract work, this painting is inspired by clear real-world examples: the city grid of Manhattan, and the Broadway boogie woogie, a type of music Mondrian loved. The painting was bought by the Brazilian sculptor Maria Martins for the price of $800 at the Valentine Gallery in New York City, after Martins and Mondrian both exhibited there in 1943. Martins later donated the painting to the Museum of Modern Art in New York City.
Mondrian's aesthetic doctrine of Neo-Plasticism restricted the painter to the most basic kinds of line—that is, to straight horizontals and verticals—and to a similarly limited color range, the primary triad of red, yellow, and blue plus white, black, and the grays in between. But Broadway Boogie Woogie omits black and breaks Mondrian's once uniform bars of color into multicolored segments. Bouncing against each other, these tiny, blinking blocks of color create a vital and pulsing rhythm, an optical vibration that jumps from intersection to intersection like traffic on the streets of New York. At the same time, the picture is carefully calibrated, its colors interspersed with gray and white blocks.
Mondrian arrived in New York in 1940, one of the many European artists who moved to the United States to escape World War II. He immediately fell in love with the city and with boogie-woogie music, to which he was introduced on his first evening in New York. Soon he began, as he said, to put a little boogie-woogie into his paintings.
References:
http://www.piet-mondrian.org/broadway-boogie-woogie.jsp
http://www.moma.org/audio/playlist/1/196
http://www.wikiart.org/en/piet-mondrian/broadway-boogie-woogie-1943
http://www.moma.org/collection/works/78682
http://en.m.wikipedia.org/wiki/Composition_with_Red_Blue_and_Yellow