peggy hopper artist painter

For backdrops?
After living in Europe for two years, Pegge Hopper and her husband moved back to California, with plans to start a family. They determined that L.A. was not for them, and in 1963, the couple and their six-week-old daughter left on a Pan Am clipper bound for Hawaii. They'd never set foot here before. Pegge reestablished herself as a freelance artist, and along with some friends, helped form the environmental advocacy group, Life of the Land in the mid-1960s. She eventually went to work at one of Honolulu's leading advertising agencies.
Yvonne Cheng has returned to classic female figures for this show. Born in Surabaya, Indonesia, Cheng was tutored in art as a child and moved to Hawai'i in 1967. The batiks she made in the 1970's and early '80's were welcomed in Honolulu's established venues. They featured expanses of both women and 'ohe kapala printed kapa, usually in earth tones. Her work has expanded into collage, acrylic painting, and pastel drawings.
Hopper went back to painting. In the decades since, Hopper's women and her graphic treatment of the tropics have embodied a refined, and gracious Hawai'i style.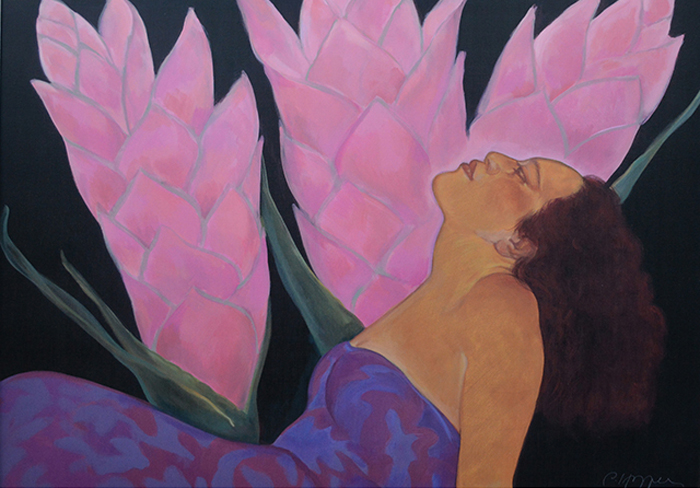 Hopper's background as a graphic artist is evident in her masterful use of color in large flat areas to create slightly abstracted compositions, reserving thoughtful detail for each woman's face, hands and feet. Interestingly, Hopper never worked with live models. Instead, she says she "developed this archetypal person. She's nobody in particular, except my vision of how I see the beautiful Hawaiian people."
Island Noon, detail Apricot Summer Hili Lei Untitled (Woman With Ginger) Warm Afternoon Untitled Kailua Noon Kilo Hana Untitled (Woman with Anthuriums) Luana Banana Leaf Pua Melia

My first goal wherever I travel is to immerse myself in the art of the region. Thanks to artist friend Nanci Hersh, who lived in Hawaii for many years, I had the inside scoop on where to go. The Pegge Hopper Gallery was first on the list. Pegge is an energetic and fascinating woman, generous of spirit. I enjoyed an easy, lengthy conversation with her about the evolution of her art and gallery, and art on Oahu.
I hadn't seen my son Andrew Russell Towl in the flesh, for two years. Way to long! A field trip was definitely called for! Thank goodness for air miles! I

The commission marks the one-year anniversary of Montage Kapalua Bay's opening and Montage's commitment to honoring the art, culture and customs of Hawaii – be it through Silla's teaching of traditional lei making, ukulele and hula or by showcasing original, local pieces like Hopper's that evoke the unique spirit and history of the land.
"We had a desire to help educate those unfamiliar with Pegge's work and the significance of it, and were also inspired to add to the collection," said Holtzman. "We found ourselves very enthusiastic about her charcoal drawings highlighted by watercolor, and had the idea to use the image of someone very special to us, our own Silla Kaina.
References:
http://www.hawaiipublicradio.org/post/artist-pegge-hopper-selling-her-gallery-starting-anew
http://erikabrechtel.com/2015/11/08/art-sunday-pegge-hopper/
http://lizamyers.com/2015/05/hawaiian-artist-pegge-hopper/
http://www.mauimagazine.net/pegge-hopper-art-montage-kapalua-bay/
http://square.github.io/picasso/