paul klee cat
Klee provides a dreamy composition in Cat and Bird. This beautiful painting by Paul Klee is a hypnotising painting of the face of a cat. The cat is looking directly at the viewer, and consists of many colours including red, yellow, orange, blue, green and black.
This painting was produced using oil and ink on gessoed canvas mounted on wood, measuring 38 x 53cm. It is now located at the Museum of Modern Art, New York.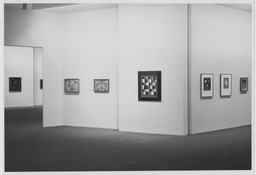 On consignment from the artist to Galerie Alfred Flechtheim, Berlin, 1929 [1]; on loan to The Museum of Modern Art, New York, 1930 [2]; sold through J. B. Neumann, New York to Franz H. Hirschland (1880-1973), Harrison, NY, by 1934 [3]; by inheritance to Susan Ann Hirschland (Suzy Prudden) and Joan Ellen Hirschland Meijer, 1973; Gift to The Museum of Modern Art, New York, 1975 (Sidney and Harriet Janis Collection Fund and gift of Suzy Prudden and Joan H. Meijer in memory of F. H. Hirschland).
If you notice an error, please contact us at [email protected]

Klee was in his late forties when he painted this oil and ink work on gessoed canvas. Nevertheless, there's a wide-eyed naiveté about the picture, with the painter artfully working one animal motif into another.
All kids know cats like to chase and catch birds, but it takes a mature artist to express this infantile conception with such skill and conviction.

Paul Klee with his cat Bimbo, 1935
Klee suffered and died from a wasting disease, scleroderma, and is buried in Bern, Switzerland.

I loved "Tomcat's Hunting Ground" too, from Klee in 1919. I think it was on loan from the Albertina in Vienna. I love the childlike joy in so much of Klee's work.
Back in my home state of Minnesota for a fall visit, I saw an exhibit by a young artist who reminds me of Klee. Jimmy Reagan is a young autistic man in his twenties.
References:
http://www.moma.org/collection/works/79456
http://www.phaidon.com/agenda/art/articles/2018/december/18/can-you-see-what-paul-klee-s-cat-wants/
http://www.thegreatcat.org/the-cat-in-art-and-photos-2/cats-in-art-20th-century/paul-klee/
http://castlesandcoffeehouses.com/2017/11/22/paul-klees-cats-and-mine/
http://www.paul-klee.org/three-houses-and-a-bridge/