nighthawks setting
Known best for his oil paintings, Hopper often made sketches before painting, detailing his intentions. He used light and shadow effectively to create the mood of his paintings, and bright sunlight, signifying revelation, and the shadows it cast in life. He used simplified shapes and details to show realism, and he used saturated colors to emphasize contrast, and to create the mood for his realistic American scenes. His subjects were common American-life scenes, and its people.
Edward Hopper was a historian who used painting as his medium, instead of the written word, to depict 1940's American life in his home state, through Nighthawks. Many interpretations can be made as to its symbolism and deeper meanings, yet it depicts a time in American history to be remembered.
Night + brilliant interior of cheap restaurant. Bright items: cherry wood counter + tops of surrounding stools; light on metal tanks at rear right; brilliant streak of jade green tiles 3/4 across canvas–at base of glass of window curving at corner. Light walls, dull yellow ocre [sic] door into kitchen right. Very good looking blond boy in white (coat, cap) inside counter. Girl in red blouse, brown hair eating sandwich. Man night hawk (beak) in dark suit, steel grey hat, black band, blue shirt (clean) holding cigarette. Other figure dark sinister back–at left. Light side walk outside pale greenish. Darkish red brick houses opposite. Sign across top of restaurant, dark–Phillies 5c cigar. Picture of cigar. Outside of shop dark, green. Note: bit of bright ceiling inside shop against dark of outside street–at edge of stretch of top of window. [8]
Hopper was an avid moviegoer and critics have noted the resemblance of his paintings to film stills. Nighthawks and works such as Night Shadows (1921) anticipate the look of film noir, whose development Hopper may have influenced. [26] [27]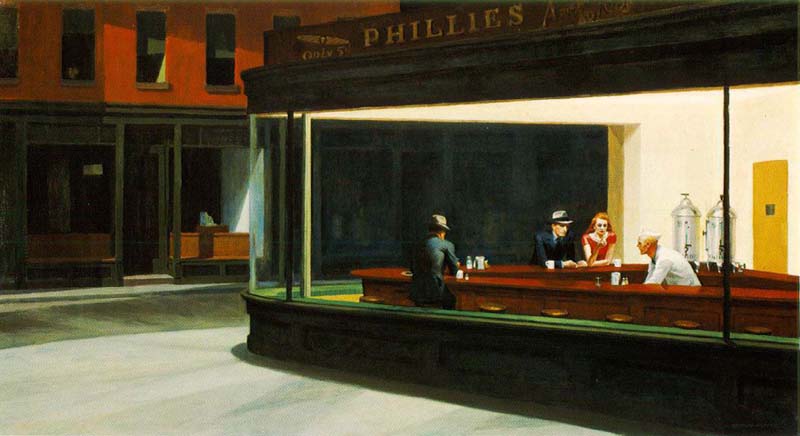 70 Greenwich Avenue ("West Village Florist") at the intersection of West 11th Street, southeast corner, just east of Seventh Avenue.
So if the florist shop next door was the inspiration for Nighthawks, and Hopper said he "made the restaurant bigger" – it would look this size – which it does.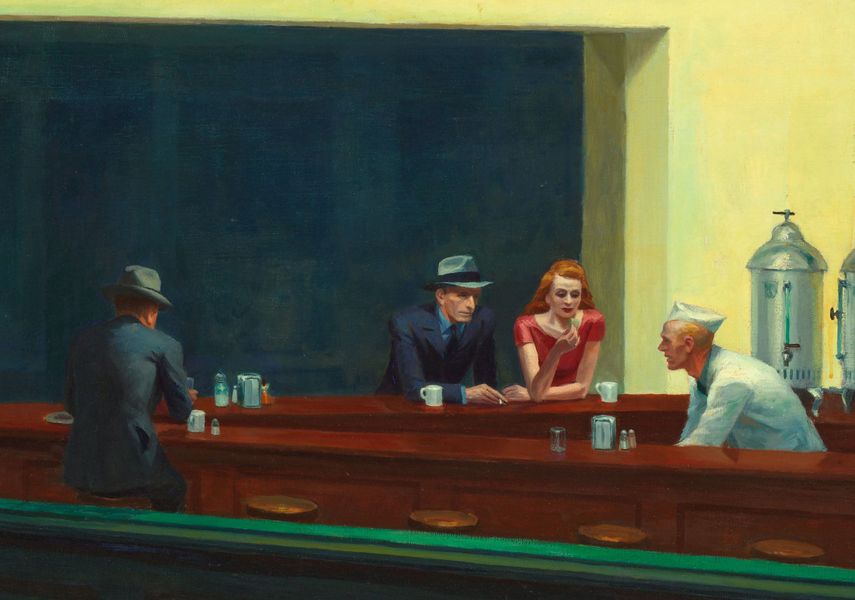 A few short months after Hopper put on the final touches, Daniel Catton Rich, director of the Art Institute of Chicago, declared that the work was as "fine as Homer", referencing the 19th-century American landscape painter. He purchased the Nighthawks painting for the Art Institute for $3000 (around $43,200 today), where it remains still.
With its simple setting, dramatic lighting and ordinary stillness, the painting makes it easy for the viewer to place him or herself into the scene, on the city streets. The main character of the work seems to be the diner itself, with strong diagonal lines accentuated by the counter and the stools. However, with no doors to enter, the viewer is shut out from the scene by a seamless wedge of glass, allowing the viewer to invade the diner's private world and his Nighthawks from the street by way of sight only.

The R7000 Nighthawk Wireless Router ships with the parts listed below.
If the genie does not load, visit www.routerlogin.net
References:
http://en.m.wikipedia.org/wiki/Nighthawks_(painting)
http://www.popspotsnyc.com/nighthawks/
http://www.widewalls.ch/edward-hopper-nighthawks-painting/
http://www.shopkeep.com/support/hardware/r7000-nighthawk-smart-wireless-router-setup
http://www.edwardhopper.net/nighthawks.jsp