juststitia stained glass edward burne jones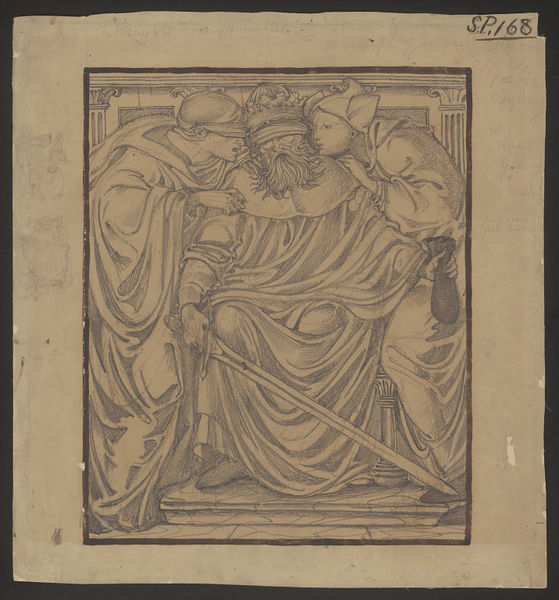 Design for a window in the north wall of the nave of the chapel at Jesus College.
Burne-Jones, Edward Coley (Sir), born 1833 – died 1898 (designed by)
Morris & Co. (manufactured by)
Burne-Jones had intended to become a church minister, but under Rossetti's influence both he, and Morris decided to become artists, and Burne-Jones left college before taking a degree to pursue a career in art. In February 1857, Rossetti wrote to William Bell Scott
Georgiana gave birth to a son, Philip, in 1861. A second son, born in the winter of 1864 while Georgiana became gravely ill with scarlet fever, died soon after birth. The family then moved to 41 Kensington Square, and their daughter Margaret was born there in 1866. [8] In 1867 Burne-Jones and his family settled at the Grange, an 18th-century house set in a garden in North End, Fulham, London. For the 1870s Burne-Jones did not exhibit, following a number of bitterly hostile attacks in the press, and a passionate affair (described as the "emotional climax of his life") [9] with his Greek model Maria Zambaco, which ended with her trying to commit suicide by throwing herself in Regent's Canal. [9] [10] During these difficult years Georgiana developed a friendship with Morris, whose wife Jane had fallen in love with Rossetti. Morris and Georgie may have been in love, but if he asked her to leave her husband, she refused. In the end, the Burne-Joneses remained together, as did the Morrises, but Morris and Georgiana were close for the rest of their lives. [11]

Accession number: 1927P440
Pencil on two sheets of cream toned paper.

I've rediscovered my enthusiasm for the stained glass of Morris & Company after visiting Christ Church in Southgate, North London. The windows in this church cover every period of the firm's production from 1861 until the twentieth century, with designs by William Morris, Dante Gabriel Rosetti, Ford Madox Brown, Philip Webb and Edward Burne-Jones. The photos I'd seen were mainly those rare early windows designed, made and painted by the partners in the original firm, in the Victorian Medieval style i.e small figures engulfed by patterned borders and backgrounds. But the ones I really liked are shown in the photo below. There are pairs of figures in all the windows of the north and south aisle, they look great from a distance because of this consistency of design and are full of amazing detail and colour. Burne-Jones designed all except the figure of St. Francis which is the latest and is by Henry Dearle (1911).
Left: The figure of Patientia. Right: The figure of Martha.


Выполните вход, чтобы сообщить о неприемлемом контенте.
Sir Edward Coley Burne-Jones, 1st Baronet ARA (28 August 1833 – 17 June 1898) was an English artist and designer closely associated with the later phase of the Pre-Raphaelite movement, who worked closely with William Morris on a wide range of decorative arts as a founding partner in Morris, Marshall, Faulkner & Co. Burne-Jones was closely involved in the rejuvenation of the tradition of stained glass art in Britain; his stained-glass include windows in St. Philip's Cathedral, Birmingham, St Martin in the Bull Ring, Birmingham, Holy Trinity Church, Sloane Square, Chelsea, St Peter and St Paul parish church in Cromer, St Martin's Church in Brampton, Cumbria (the church designed by Philip Webb), St Michael's Church, Brighton, All Saints, Jesus Lane, Cambridge, St Edmund Hall and Christ Church, two colleges of the University of Oxford. His stained glass works also feature in St. Anne's Church, Brown Edge, Staffordshire Moorlands and St.Edward the Confessor church at Cheddleton Staffordshire. Burne-Jones's early paintings show the heavy inspiration of Dante Gabriel Rossetti, but by the 1860s Burne-Jones was discovering his own artistic "voice". In 1877, he was persuaded to show eight oil paintings at the Grosvenor Gallery (a new rival to the Royal Academy). These included The Beguiling of Merlin. The timing was right, and he was taken up as a herald and star of the new Aesthetic Movement.
References:
http://en.m.wikipedia.org/wiki/Edward_Burne-Jones
http://www.preraphaelites.org/the-collection/1927p440/enoch-king-david-christ-solomon-elijah-st-thomas-caritas-st-michael-justitia-and-st-paul/
http://www.sashaward.co.uk/blog/2019/3/22/southgate
http://m.youtube.com/watch?v=0KBWYnzy5SQ
http://en.m.wikipedia.org/wiki/Nadine_Velazquez