jesus roman art

The paintings of the catacombs and the sculptured sarcophagi give us an impression of what Christian art was like at its dawn. Like much Roman art, the style of representation was entirely drawn from that favoured by well-to-do Pagans (and the Christians, who adopted them, must have certainly belonged to the wealthier classes). It is now well known that the catacombs were not meeting places, nor refuges to escape from persecution, but simple subterranean cemeteries similar to those used by the Pagans and by the Jews. These cemeteries were often made up of several floors one above the other and they had numerous corridors and ambulatories set in the walls, from which graves or rectangular cavities were hewn out to receive the bodies of the deceased. The graves that contained people of importance were sometimes ornamented with an arch (arcolosium), or with stuccos or panel paintings. The body of a martyr was generally put in a small room called a crypt or cubiculum, and the catacomb often took its name from the martyr. The term catacomb is derived from the cemetery of San Sebastian on the Appian Way, which was called catacumbas. The word is of doubtful etymology: it possibly meant that the cemetery had been placed in a depression in the ground, which was in fact the only kind of cemetery known and used throughout the Middle Ages. Later the meaning of the word was extended to include other forms.
Both in the decoration of sarcophagi and in the cemetery images, a new Christian iconography slowly formed in painting and sculpture: it drew widely on Pagan motifs and myths (Orpheus, Amor and Psyche) which were then adapted to the new Christian symbolism. However, the style always remained similar to that of the contemporary Pagan works, so much so that in those representations where the Christian subject was not visible, they could have been used just as easily to decorate any Pagan villa or cemetery. The specifically Christian repertoire – mostly Biblical art – was quite limited, and was used again and again, for example, in the paintings on sarcophagi. The subject matter turned almost continually around the concept of salvation; many themes alluded to this concept symbolically, for example the baptism of Christ, the story of Jonah and the whale (one of the most popular subjects), Daniel among the lions, the raising of Lazarus, and so on up to the representation of the good shepherd, which was an especially favoured theme at the dawn of Christian culture.

A general assumption that early Christianity was generally aniconic, opposed to religious imagery in both theory and practice until about 200, has been challenged by Paul Corby Finney's analysis of early Christian writing and material remains (1994). This distinguishes three different sources of attitudes affecting early Christians on the issue: "first that humans could have a direct vision of God; second that they could not; and, third, that although humans could see God they were best advised not to look, and were strictly forbidden to represent what they had seen". These derived respectively from Greek and Near Eastern pagan religions, from Ancient Greek philosophy, and from the Jewish tradition and the Old Testament. Of the three, Finney concludes that "overall, Israel's aversion to sacred images influenced early Christianity considerably less than the Greek philosophical tradition of invisible deity apophatically defined", so placing less emphasis on the Jewish background of most of the first Christians than most traditional accounts. [10] Finney suggests that "the reasons for the non-appearance of Christian art before 200 have nothing to do with principled aversion to art, with other-worldliness, or with anti-materialism. The truth is simple and mundane: Christians lacked land and capital. Art requires both. As soon as they began to acquire land and capital, Christians began to experiment with their own distinctive forms of art". [11]
Early Christian art and architecture adapted Roman artistic motifs and gave new meanings to what had been pagan symbols. Among the motifs adopted were the peacock, Vitis viniferavines, and the "Good Shepherd". Early Christians also developed their own iconography; for example, such symbols as the fish (ikhthus) were not borrowed from pagan iconography.

The appearance of Jesus had some theological implications. While some Christians thought Jesus should have the beautiful appearance of a young classical hero, [21] and the Gnostics tended to think he could change his appearance at will, for which they cited the Meeting at Emmaus as evidence, [22] others including the Church Fathers Justin (d. 165) and Tertullian (d. 220) believed, following Isaiah:53:2, that Christ's appearance was unremarkable: [23] "he had no form nor comeliness, that we should look upon him, nor beauty that we should delight in him." But when the pagan Celsus ridiculed the Christian religion for having an ugly God in about 180, Origen (d. 248) cited Psalm 45:3: "Gird thy sword upon thy thigh, mighty one, with thy beauty and fairness" [24] Later the emphasis of leading Christian thinkers changed; Jerome (d. 420) and Augustine of Hippo (d. 430) argued that Jesus must have been ideally beautiful in face and body. For Augustine he was "beautiful as a child, beautiful on earth, beautiful in heaven."
Except for Jesus wearing tzitzit—the tassels on a tallit—in Matthew 14:36 [8] and Luke 8:43–44, [9] there is no physical description of Jesus contained in any of the canonical Gospels. In the Acts of the Apostles, Jesus is said to have manifested as a "light from heaven" that temporarily blinded the Apostle Paul, but no specific form is given. In the Book of Revelation there is a vision the author had of "someone like a Son of Man" in spirit form: "dressed in a robe reaching down to his feet and with a golden sash around his chest. The hair on his head were white like wool, and his eyes were like blazing fire. His feet were like burnt bronze glowing in a furnace (. ) His face was like the sun shining in all its brilliance" (Revelation 1:12–16, NIV). Use in art of the Revelation description of Jesus has generally been restricted to illustrations of the book itself, and nothing in the scripture confirms the spiritual form's resemblance to the physical form Jesus took in his life on Earth.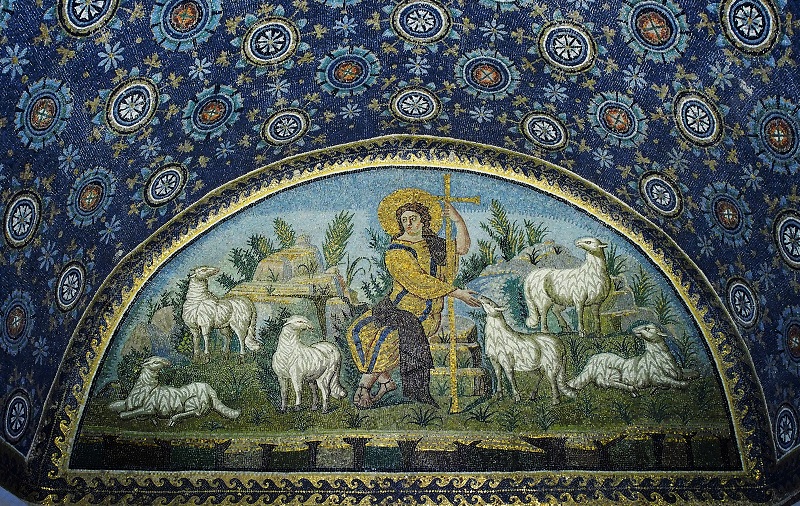 photo source: Wikimedia Commons
Year Painted: c.425
Location: Mausoleum of Galla Placidia, Ravenna, Italy
Image Depicted: Christ as the Good Shepherd among a flock of sheep
Materials Used: Mosaic – pieces of stone or glass

The Byzantine Empire was continuously expanding and shrinking over the centuries, and this geography influenced art as new ideas became more readily accessible over time. Ideas and art objects were continuously spread between cultures through the medium of royal gifts to fellow rulers, diplomatic embassies, religious missions, and souvenir-buying wealthy travellers, not to mention the movement of artists themselves. From the early 13th century CE, for example, Byzantium was influenced by much greater contact with western Europe, just as it had been when the Byzantines were more present in Italy during the 9th century CE. The influence went in the other direction, too, of course, so that Byzantine artistic ideas spread, notably outwards from such outposts as Sicily and Crete from where Byzantine iconography would go on to influence Italian Renaissance art. So, too, in the north-east, Byzantine art influenced such places as Armenia, Georgia, and Russia. Finally, Byzantine art is still very much alive as a strong tradition within Orthodox art.
Besides walls and domes, small painted wooden panels were another popular medium, especially in the late-Empire period. Literary sources describe small portable portrait paintings which were commissioned by a wide range of people from bishops to actresses. Paintings for manuscripts were also a valued outlet for painting skills, and these cover both religious subjects and historical events such as coronations and famous battles.
References:
http://en.m.wikipedia.org/wiki/Early_Christian_art_and_architecture
http://en.m.wikipedia.org/wiki/Depiction_of_Jesus
http://www.oldest.org/artliterature/jesus-paintings/
http://www.ancient.eu/Byzantine_Art/
http://www.georgesbraque.org/