guston the hand

The Line (1978), Philip Guston. Courtesy Hauser & Wirth; © The Estate of Philip Guston
The hand depicted in The Line, or one that strongly resembles it, appeared in a drawing a few years before he painted that late work. The Drawing (c. 1972) shows two fingers extended, a pen or brush poised awkwardly between them. It's a modest hand, the poet's or artist's, and it is flanked by modest things: a radio, a lamp. The words, a poem by Clark Coolidge, and the lines in the drawing, have equal value. Quite apart from expressing his affinity with a poet, the drawing encapsulates Guston's late-life revelation: every line, every mark, can be understood not strictly as a formal ingredient, but as a metaphor, and is therefore free to revel in instability, paradox, and contamination.

Hooded figures appear constantly in these works but are strangely benign. It's as if a rabid dog was actually defanged. Guston, in 1978, while talking to students, explained that he was the man behind the hoods, trying to explore the banality of evil.
The year after that now iconic and breakthrough show, Guston went (or fled) to Rome for his second Prix de Rome (the first was in 1948) where he painted the mysterious works on paper that Hauser Wirth are exhibiting here in Resilence: Philip Guston in 1971, curated by his daughter Musa Mayer. Unbelievably prolific (he actually sat around and pondered in Rome for two months, gathering himself, before creating what seems like hundreds of images, with some forty-odd works on paper here on display.)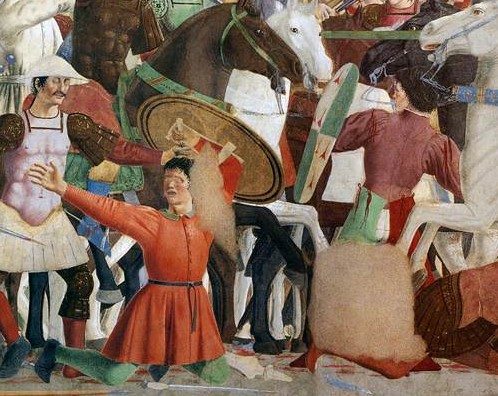 "…without our familiar passions, he is like a visitor to earth, reflecting on distances, gravity and the positions of essential forms…You see a tree, angels, some ground, a little bit of water, some reflections, sky, clouds, hills, limbs. It's as if he came down and opened his eyes up for the first time. It has that feeling. I want to do that. I want to paint the world as if it had never been seen before..maybe I have to go through this whole torturous business to do it."
The Painter 1976 188cm x 295 cm
"He was, as he described it, resistant of forms losing their identities between painting abstraction and in representation, self representation of the sort he was seeking, as he described, as almost a state of inertia. He needed to create more solid forms, and that sense, the creation of these forms, is really the subject of this entire exhibition. In a way, to see through the trajectory of this show, he begins with this search for more solid forms and his concern that the loss of the object, whether it's a still life or a person, was catastrophic for abstraction and the New York School."
While the works are gorgeous, and wonderful to see together in this context—with their visible stylistic shifts—they are hardly surprising, despite the gallery's claims.


Выполните вход, чтобы сообщить о неприемлемом контенте.
The exhibition at Hauser & Wirth opens with 'Fable II' and 'Rite', two small paintings from 1957 that suggest evolution in both Guston's mood and technique. Disturbing the pictorial field of these canvases, thick, densely clustered black strokes burst through heavily pigmented colorful patches ranging in tone from radiant azure and blazing orange, to fleshy pink and deep forest green. Similarly, a silvery wash of glimmering brushstrokes begins to encroach upon Guston's lighter forms. Enveloping the background completely in 'Last Piece' (1958), the expanses of grey field suggest erasure – an obliteration of the artist's previous association to pure abstraction.
References:
http://medium.com/@cvonhassett/resilience-philip-guston-in-1971-be76fd03fe83
http://www.edgrayart.com/blog/rebel-painters-part-3-hail-to-thee-mandarin-stumblebum-philip-guston-visionary-trusthsayer/
http://news.artnet.com/market/hauser-and-wirth-huge-philip-guston-483212
http://m.youtube.com/watch?v=QAM9YMAfsbw
http://www.usa.com/rank/population-growth-rate–rank-of-city-near–guston-ky.htm