edward burne-jones
Burne-Jones worked in a combination of craft disciplines, such as painting, weaving and book illustration. Together with his friend, the designer William Morris, he was one of the leading figures in the Arts and Crafts Movement, which would have a great impact on the international art world, including in the Nordic countries.
At the age of 22 Burne-Jones abandoned his theology studies to become an artist. He spent his apprentice years among the Pre-Raphaelites—an art movement that rebelled against academic art and the conventions of the period. His motifs were often drawn from medieval legends and ancient myths. Burne-Jones presents a world of beauty and mysticism that is otherworldly and is considered a pioneer of European Symbolism.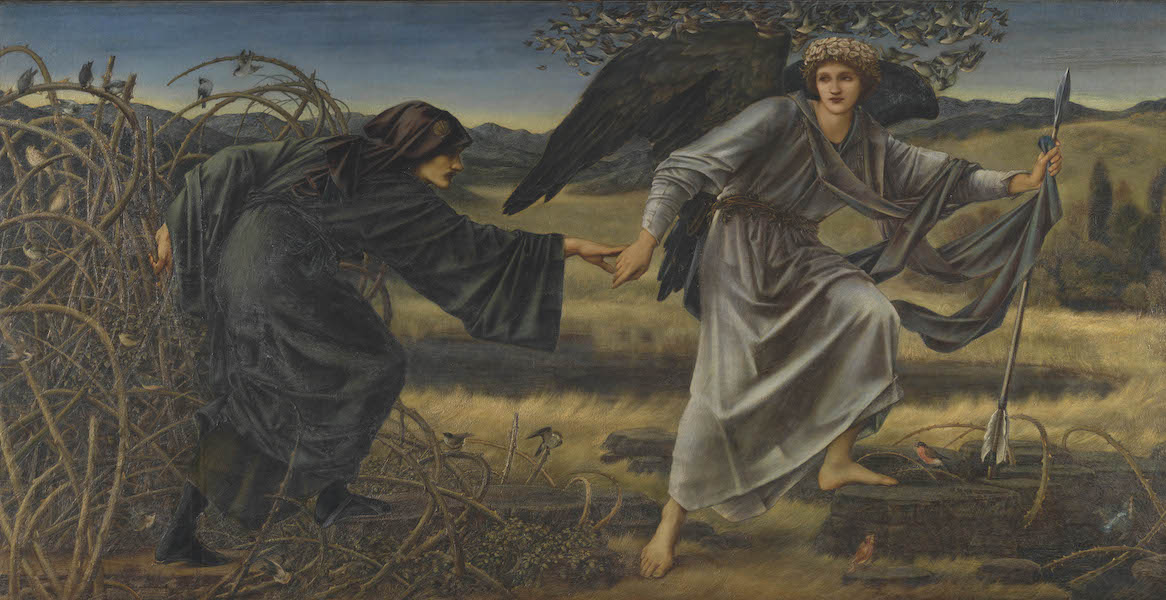 The exhibition is organised in close collaboration with Tate Britain, which this winter presents Edward Burne-Jones in London, the first major show on the artist for many years. Director of Tate Britain, Alex Farquharson, says about the Scandinavian tour: 'Tate is delighted to be supporting the Edward Burne-Jones exhibition at Prins Eugens Waldemarsudde, Stockholm, and KODE – Art Museums and Composers Homes, Bergen. This is a fantastic opportunity to present the work of one the great British artists to a new audience in Scandinavia. Over thirty masterpieces usually on display in London at Tate Britain, the home of British art from 1500 to the present day, are being lent to this landmark exhibition. Renowned for otherworldly depictions of beauty inspired by myth, legend and the Bible, Burne-Jones was a pioneer of the symbolist movement and the only Pre-Raphaelite to achieve world-wide recognition in his lifetime. We are grateful to the Nordic Institute for Art (NIA) for their assistance in achieving this collaboration.'
We are pleased to announce Edward Burne-Jones: The Pre-Raphaelites and the North– the first monographic show on the artist ever in Scandinavia – which will be shown at Prins Eugens Waldemarsudde , Stockholm fall 2019 and KODE – Art Museums and Composers Homes , Bergen spring 2020; organised by NIA – Nordic Institute of Art and the two museums, in collaboration with Tate Britain .
Sir Edward Coley Burne-Jones, 1st Baronet, original name Edward Coley Burne Jones, (born Aug. 28, 1833, Birmingham, Eng.—died June 17, 1898, London), one of the leading painters and designers of late 19th-century England, whose romantic paintings using medieval imagery were among the last manifestations of the Pre-Raphaelite style. More long-lasting is his influence as a pioneer of the revival of the ideal of the "artist-craftsman," so influential to the development of 20th-century industrial design.
Burne-Jones was educated at Exeter College, Oxford, where he met his future collaborator, the artist-poet William Morris, then a fellow divinity student. His meeting with the artist Dante Gabriel Rossetti in 1856 marked a turning point in his career, and he left Oxford without graduating. Morris and he then settled in London, working under Rossetti's guidance.
On 16 June 1933, Prime Minister Stanley Baldwin, a nephew of Burne-Jones, officially opened the centenary exhibition featuring Burne-Jones's drawings and paintings at the Tate Gallery in London. In his opening speech at the exhibition, Baldwin expressed what the art of Burne-Jones stood for:
Burne-Jones was involved in the rejuvenation of the tradition of stained glass art in Britain; his works include windows in St. Philip's Cathedral, Birmingham, St Martin in the Bull Ring, Birmingham, Holy Trinity Church, Sloane Square, Chelsea, St Peter and St Paul parish church in Cromer, St Martin's Church in Brampton, Cumbria (the church designed by Philip Webb), St Michael's Church, Brighton, Trinity Church in Frome, All Saints, Jesus Lane, Cambridge, St Edmund Hall and Christ Church, two colleges of the University of Oxford. His stained glass works also feature in St. Anne's Church, Brown Edge, Staffordshire Moorlands and St. Edward the Confessor church at Cheddleton Staffordshire. Burne-Jones's early paintings show the inspiration of Dante Gabriel Rossetti, but by the 1860s Burne-Jones was discovering his own artistic "voice".

Burne-Jones had intended to become a church minister, but under Rossetti's influence both he and Morris decided to become artists, and Burne-Jones left college before taking a degree to pursue a career in art. In February 1857, Rossetti wrote to William Bell Scott
In addition to painting and stained glass, Burne-Jones worked in a variety of crafts; including designing ceramic tiles, jewellery, tapestries, and mosaics.
References:
http://nordicart.org/edward-burne-jones-.html
http://www.britannica.com/biography/Sir-Edward-Coley-Burne-Jones-1st-Baronet
http://en.m.wikipedia.org/wiki/Edward_Burne-Jones
http://www.wikiart.org/en/edward-burne-jones
http://www.tate.org.uk/whats-on/tate-britain/exhibition/edward-burne-jones