braque bach aria

One of the intriguing aspects of investigating an artist and their practices is delving into the context of his or her time, understanding the historical and formative moments that helped shape their aesthetic and world view. Confronting the maelstrom of social, political, and artistic upheaval of the 20th century can be an intimidating, if elucidating, obstacle in the consideration of an artist. Painters, writers, and musicians of this period were all tackling the same aesthetic questions and quandaries of expression and the human condition. The art and music of this period are often viewed as interweaving yet divided entities. A comparative look at both almost feels too big to confront, the possibilities too vast or too vague to be meaningful. In the case of George Braque, whose works are currently on view in the Georges Braque and the Cubist Still Life, 1928-1945 exhibition at the Phillips, we can learn much from looking further into history too.
In works that predate this exhibition, Braque had made explicit reference to his admiration of the Baroque composer J.S. Bach (1685-1750). Between 1912 and 1913 he stenciled Bach's initials on his Homage to J.S. Bach, as well as musical forms that Bach employed, like the Aria, as in the Aria de Bach of 1913. These explicit placements of Bach's name yield more than mere admiration of his music and art historians have found an analogue between Bach's polyphony and counterpoint and the angles and perspectives of Braque's cubist works. If we think about the form that is most associated with Bach, the fugue, we find a careful balance of four distinct voices woven together. In listening to his many fugues it is possible to feel a parallel with the sense of line and architecture in Braque's painting. Yet beyond this fairly abstract comparison there are similarities in terms of form and practice between the two men. The writer and art historian responsible for much of the early scholarship on Braque, Carl Eisenstein, speaks of Braque's meticulous and tireless pursuit of perfection in his still life variations. By limiting himself to specific forms and motifs, Eisenstein says, Braque heightens his images to new levels of technical achievement. The same sense of economy of means applies to some of Bach's music: in choosing a single theme and subjecting it to a series of variations, he evinces the endless possibilities that can be generated from a single musical idea.

Analytical Cubism – When Cubism began, it was called Analytical Cubism. An artist would take a subject such as fruits, furniture, or a persons profile, and they would study it until they could break the subject into little blocks or squares on their canvas. The artist looks at the art blocks from different angles and reconstructs the subject by painting them from different view points (see The Round Table).
What is Cubism?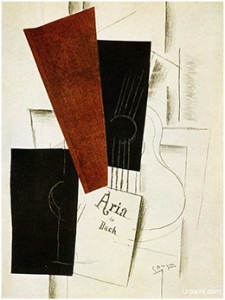 Georges Braque (1882-1963), Aria de Bach -1913
Between 1908 and 1914 many of Georges Braque's (1882-1972) cubist paintings, made references to Bach in their titles, such as 'Hommage à Bach'; 'Aria de Bach', 'Still-Life Bach', etc… Braque was a classically trained violinist and parts of violins appear in many of his 'musical' works, in particular in his 'collage' paintings, where he uses fragmented cut-outs of wood-grain paper simulating the finish of real violins. The construct of the fugue was also of particular interest to him. In his paintings, the objects represented become a musical construct existing and interacting at different levels through shadings, drawings, color, volume, mass, line and weight, which the viewer has to integrate into a synthesis, just as the listener could attribute similar constructs in Bach.

"The table" still life, 1928 (Georges Braque)
One of his most famous works of that period – the painting called "Houses at L'Estaque". A concrete motif here is turned into some sort of a model of the universe. What we actually see in this painting, is not a view of a city, but the image of the world of creation.
References:
http://34kiwis.wordpress.com/2014/05/27/fragments-of-real-things-georges-braque/
http://interlude.hk/music-art-hommage-bach/
http://cubismsite.com/georges-braque-cubism/
http://www.georgesbraque.org/