ashtray guston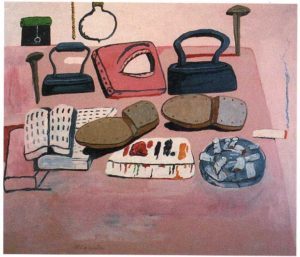 Looking at Philip Guston and his work I am grateful that their heretofore mute message, so poignantly waiting, became clearer to me through what I learned from Aesthetic Realism: the purpose of art, like the purpose of life, is honestly to like the world.
Then he did these drawings with their mingling of poignancy and self-mockery, their comic-strip feeling. These works fairly shout their self-criticism but not a single art critic saw that the artist did not like himself. About these works, Guston wrote: "I perceive myself behind the hoods."

The next dead artist, well visual artist or oil painter is Philip Guston and some his paintings from 1973 or my collection of some of my fave's of his and that year here on my blog. I'm starting here because he's most likely going get more than one blog post or few about him or his painting at least. Could be yet another of my fave of all the dead painters ever too!
The very first artwork at the top of this post is entitled My Coffee Cup and most of these revolve artworks around his everyday life of painting, drinking, eating, sleeping and not much more. Oh, he did like a good pair of shoes or a few! Also things are not getting too crazy here in his paintings just yet and most likely, if you've never seen his work before a good starting point? A nice intro to his paintings, hopefully? Guston basic details are he was born in 1913 in Montreal, Canada and then die in 1980 and was pretty much a New York artist in that last decade or more, if that helps at all? All paintings below are oil on canvas!
'Small Oils on Panel:
Life is an unnamed, minimally indicated town of modest skyscrapers populated by white triangles of sheet-hooded heads with electric outlets for eyes. These are the seemingly hapless, defanged descendants of the Ku Klux Klan figures from Guston's paintings of the late 1930s and early '40s. Still, they ride around in cars, talk conspiratorially and lurk near chimneys and behind brick walls.

Back to the bandages. The image of them has been stuck in my head for years. Like the leg itself, the bandages are painted in red, white and blue and suggestive of a shredded flag, or old bunting. (This color choice is especially significant since blue appears so rarely in work by Guston.) And then, oh my, there's the nose! Richard M. Nixon did indeed have a very unusual nose, beloved by cartoonists. As he aged and his jowls became prominent and his nose grew, (literally and metaphorically) his face could seem obscene. Guston surely thought so. This presidential portrait is essentially a pair of eyes above a large, flaccid penis and sagging, hairy balls.
The painting was completed in 1975, two years after Nixon's resignation and a year after the phlebitis episode. It is called, "San Clemente," after the small California town that was the site of Nixon's "Western White House" and the home where the President retreated after his resignation. "San Clemente," rarely exhibited, has been written about as a political painting, especially because of its close connection to Guston's 1971 series of ink-on-paper caricatures of the President. Nevertheless as memories of Nixon's treachery fade into the historical record, "San Clemente" interests me less as a portrait of a former President, and more as a piece about aging and self-disgust.
Recursive functions had long been known to mathematicians. But mathematicians had no formal notation for describing conditions when recursion terminates.
Edited on June 2, 2019. The first version of this article incorrectly stated that the S-expression syntax for a list uses semicolons. Semicolons are used in the M-expression syntax. The S-expression syntax uses commas. The first version of this article incorrectly stated that a list of one atom substitutes the atom for its bound value. This claim has been removed.
References:
http://a1000mistakes.wordpress.com/2019/01/16/great-art-philip-gustons-1973-paintings/
http://archive.nytimes.com/query.nytimes.com/gst/fullpage-9B05E2DB103EF932A25751C1A96F9C8B63.html
http://paintersonpaintings.com/jane-fine-on-philip-guston/
http://maxhallinan.com/posts/2019/05/30/start-with-just-a-few-things/
http://www.diegorivera.org/